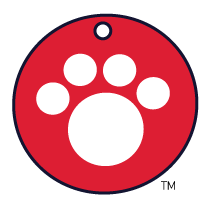 What is Kennel Cough?
Kennel cough is a fairly common ailment in dogs. Just like the common cold is with humans, dogs can get canine cough or "kennel cough" as well. People tend to associate it with dogs who have recently been boarded (or "kenneled"). However, your dog could contract canine cough anywhere they come into contact with other dogs; such as, the groomer, the veterinarian's office, in dog obedience class, at a dog show or any other dog related event. Any time your dog is in the vicinity of an infected dog, the potential exists for infection. Kennel cough is caused by an airborne virus, which is highly contagious. The incubation period is about 7-10 days, meaning your dog will not display symptoms of illness for about 7-10 days following exposure to the virus.
How do I prevent my dog from getting kennel cough?
Vaccinating your dog with the Bordetella vaccine can help reduce their risk. However, be aware that your dog can still contract the Canine Cough virus even if he or she has been vaccinated. There are many strains and mutations of the virus, making it a hit or miss whether the vaccine used on your dog will be the right one for the strain with which your dog comes in contact with. This is similar to the "flu shot" for people; each year a vaccine is developed based on which strain(s) are suspected to be most prevalent. Simply put, having the flu shot does not guarantee you won't get the flu and when your dog has a Bordetella vaccination it doesn't guaranteed he or she won't get kennel cough. A strong immune system is best defense against viruses. This is why several dogs could be exposed to the kennel cough virus but only one may actually contract it.
What vaccinations do you require for my dog?
DHPP – Given at least 24 hours prior to check-in; renewed every 1 to 3 years.
Rabies – Given at least 24 hours prior to check-in; renewed every 1 to 3 years.
Bordetella –  If this is the dog's first bordetella vaccination, it must be given 2 weeks prior to boarding.  After that, Bordetella must be renewed every 6 months. If the vaccination is given at the time of the previous vaccination expiring, it must be given at least 24 hours prior to check-in. Our protocol of every 6 months is consistent with boarding industry best practices, and is required, even if your veterinarian's protocol is different.
What vaccinations do you require for my cat?
Rabies – required once every three years
FCRVP – required once every year
What if my pet is not current on one or all of his vaccinations?
For the safety of all our patrons, we can not accept any pet that does not have current vaccinations. For your convenience you can email us at hello@barringtonpetresort.com fax us at 847-381-3779 or have your vet fax vaccination records to us prior to your pet's stay with us.
Will you give my dog their medications?
Of course! We can give any form of non-injectable medications as specified. Please make sure all medication is clearly labeled and dosage instructions are included.
If your pet requires multiple medications, please provide a list of all medications brought with you to our receptionist at check-in. In case of emergency we will need know all medications that your pet is taking at a glance. We appreciate your cooperation.
Why are your prices going up?
We are eliminating our peak rate charges.  In order to continue to provide the highest level of care for your pets, we provide our staff the livable wages they deserve.
What are your policies regarding dogs from the same family, can they stay together?
We are happy to keep dogs from the same household together.  It is our experience that dogs from the same family like to remain together throughout their stay, whether playing in the playard together or in the same room. Additionally, a lower rate is offered when dogs in the same family room together with us!
Will someone be there at night with my pet?
YES! The owner's live on site and provide 24 hour staffing to ensure your pets safety and comfort.  This gives us all peace of mind- your pets being is our greatest concern.
Do you have outdoor space for my dog?
Yes we do! Each room has a 4 x16 feet outdoor run so your pet can step out into their own space for some fresh air and a potty break. Our staff works hard to continuously make sure that your pet's area remains clean and comfortable at all times during their stay with us.
If that is not enough… We have a secure 1/2 acre fenced-in yard for our guests to run around and enjoy safe playtime. While at play we have 2 staff members out in the yard at all times to ensure that your dog has plenty attention, snuggles and can even jump in for a great game of tug of war!
Do you offer accommodations for senior pets?
YES! Being away from home can be more stressful for older pets then younger ones.  They are more set in their ways, and their patterns are more deeply integrated.  We have taken steps to make sure your senior pet goes home happy. 
If your pet does need medication or a certain way of doing something please let our staff know. Their main priority is to make your pets stay at Barrington Pet Resort the best we can make it.  So remember to label everything and if you can make a chart with directions and time schedules we will follow their routine as it would be at home.
Can I take a tour of your facility?
Absolutely! In fact we encourage it.  You can even schedule a consultation time to meet the owners!  Just click the link at the right side of the navigation menu to schedule or call for information on tour availability and schedule your first tour today!
What if my pet becomes ill while boarding?
In the case of an illness or injury, Barrington Pet Resort will make every attempt to contact you or your emergency contact. In the event that no contact can be made, BPR will assume the role and seek veterinary attention. We reserve the right to choose the veterinary clinic of our choice. In this case, all veterinary costs incurred will be the responsibility of the owner and a nominal veterinary transport fee will also be applied.
I have a new puppy and need to go out of town, at what age can I board my pet?
Your pet should be at least 4 months old. The reason for this is because they need to be current with the series of distemper/parvo vaccines as well as rabies and vets will not give a rabies vaccine to a dog under 4 months old.
Am I required to have my pet spayed and neutered prior to boarding?
Barrington Pet Resort does not require your pet be spayed or neutered prior to boarding. However they would have to stay in his/ her room during ther stay and have individual playtime for a additional charge.
Can my two cats stay together?
Yes, if they are of average size and get along fine, we would encourage you to choose to do so. They will share a nice roomy double condo togehter, so there will be plenty of room to stretch there legs and snuggle together if they choose to do so.
What are your office hours?
Check-in and check-out times are to be made during office hours only.
Our office is open:
Monday – Friday: 7am-6pm
Saturday: 8am-4pm
Sunday: CLOSED
Office is closed: All Major/Federal Holidays
What kind of food can I bring for my pet?
We serve Fromm dog and cat food.
If you prefer we will feed dry or canned food that you bring at no extra charge. We require each meal portion to be bagged in an individual baggie labeled with your pet's name. Canned foods should also be labeled with your pet's name.
We cannot accept any whole bag's of dog food or tote containers, as we simply do not have room to store them. Barrington Pet Resort will provide each household with a Barrington Pet Resort drawstring bag(s) for your pet's food to be placed in during their stay with us.
Please Note: We cannot accept any foods that need to be cooked, thawed, frozen, or refrigerated (except for canned foods).
Can I bring bedding, blanket's or stuffed toys for my dog or cat?
No. For the protection of your pet and all of our other patron's, no outside bedding, blanket's or stuffed toys are allowed in our facility.
With each pet's stay, we are happy to provide (as long as it is allowed and or requested) warm, clean lamb skin bedding or blanket (for dog's) or lamb skin bedding (for cat's) to keep them cozy and comfortable in their private room.
These protocols and safety measures are in place to keep any outside elements such as bacteria, mites, fungi, ticks, fleas or any other species of the sort out of our facility and away from your pet's. We pride ourselves in offering a very safe and clean environment for your pet's stay. We appreciate your understanding in helping us keep it that way.
What if my pet won't eat during his stay?
We will do everything that we can to entice your pet to eat. We can add canned food to their dry, or other foods (liver sausage, cheese, etc.).
Will my dog go to the bathroom on concrete?
For sanitation reasons, we are required to have concrete runs by the State of Illinois. Clients sometime express concern that their dogs may not eliminate on concrete. Because our potty areas are outside and not inside, we have found that most dogs easily adapt to concrete elimination. Dogs also have additional opportunities to relieve themselves on grass during outside play sessions.
Will anyone pay attention to my pet?
Because the owners live on site, they are able to supervise pets at any hour including Sundays and holidays. Every employee here loves animals and many of our college staff return each summer to work. Some have even gone on to become veterinarians. Because we are open 7 days a week there is always staff here interacting with and observing your pet. In fact, many dogs go home a bit exhausted from all the activity and attention they receive while staying here!
Is my pet allowed to socialize with other pets?
Pets living in the same household may have playtime together if requested. During registration you can inform us if your pet is temperamentally suited to play with other dogs. Although play times are always supervised, it is important to know that there is always some risk of injury when dogs play together.
What do I need to make a reservation?
We'll need a little of your time to get set up in our system — don't worry, it doesn't take long. Please provide:
Proof of current vaccination documentation
Services Agreement (signed)
Guest Profile (filled out)
Still have questions?
Send us a message!