7 Ways to Spend Halloween with Your Dog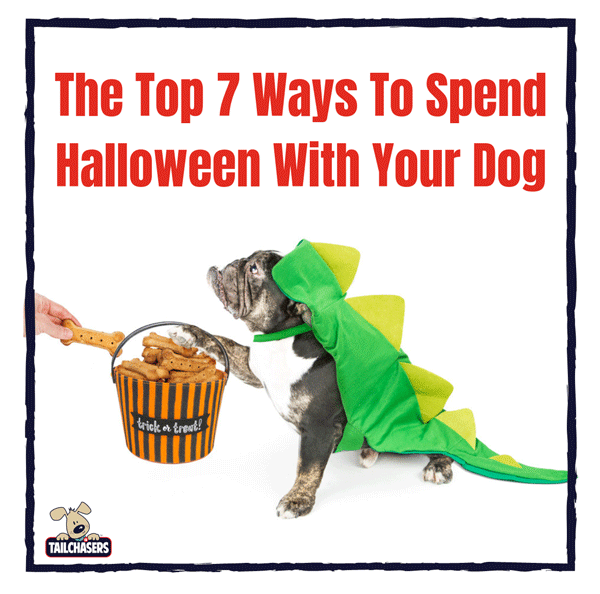 Wondering what to do with your dog on Halloween?
Halloween is a great time to spend with friends and family. You don't have to be a kid or go to wild parties at the club to enjoy Halloween. Who better to spend that time with than one of the closest companions, your dog.
Top 7 Ways To Spend Halloween With Your Dog
1. Go to a dog-friendly cafe for an afternoon treat :
Find a local cafe or brewery that has a dog-friendly porch. Usually, they provide bowls and even a few treats, but just in case, bring your own. Spend some time hanging out on the porch, enjoying a nice fall day, with your best friend.
2. Answer the door in coordinating Halloween costumes:
If your dog isn't too bothered by Halloween or the constant ringing of the front door, then
employ them to help hand out candy. Dress up in a coordinating costume like:
● Batman and Robin
● Scooby-Doo and anyone from Mystery, Inc.
● Ringmaster and circus lion
3. Spend the night watching spooky movies that feature animals:
Another wonderful way to spend Halloween is with a scary movie marathon. Pick a few
pet-centric movies and cuddle into for a night of spooky flicks. A few of our favorites are:
● Pet Cemetery
● Cujo
● Man's Best Friend
4. Host a dog party:
If you have a lot of friends who also have friendly dogs, invite them over for a little dog
party. Grab some healthy dog treats, a few toys and maybe even set up an obstacle
course in the backyard. Let your guests know to bring their own leash and any toys they
know that their dog loves.
5. Go to a fall festival:
Check out local fall festivals in your area. Since most of these are outdoors, dogs are
often allowed. Make sure to contact the event before you bring your dog, just in case.
Don't forget a water bowl and a few treats for them to enjoy too!
6. Enter a costume contest:
Some pet stores or vets actually hold costume contests for Halloween. If your pet is
outgoing then sign them up! Create or buy them a costume and see if maybe they can
win the blue ribbon!
7. Go for a fall getaway:
Some dogs just hate Halloween because of all the commotion. This would be a great chance to take a short trip. You don't even necessarily leave your town. Simply find a nice pet friendly hotel in your area to whisk them away from the madness. Or, if you can, find a fun place at a lake or state park nearby. That way you can also spend some time
hiking, too.
There are tons of fun things that you can do with your dog on Halloween, besides just trick or treating. Some dogs don't mind the holiday, while others hate it. Either way, there is always something out there for you to do with them.
What's your favorite way to include your dog in your Halloween? Let us know some of the costumes or events you've done, we'd love to hear all about it!